We are a small home based business providing cost effective service to other small and home based businesses. When you call our support line, you are speaking to the people that built all the graphics and programing that drive the entire e-commerce website system. You wont be dealing with a rotating inventory of low paid support phone operators. You will be dealing directly with the owners.
Because we are the owners we have much more at stake. We work harder, spend more time with clients and bend over backwards to assist you with building your website.
We are able to manage thousands of websites because of our unique software systems and heavy dependency on automation.
We have written every line of code, built every page, template, image bumblebee on this website. We also commonly sit around our TV at night licking envelopes and stuffing flyers to send to potential customers.
We own all of our own servers (shown in the pictures to the right), hardware, programing and outsource nothing. We are not resellers, we have our own system that is not in use by any other company. It is 100% unique and can not be found anyplace other than BumbleBee Works..
We can help you build a successful website because that is one thing we know how to do.
Our company "The Cyber Web Inc" has a long standing reputation for high quality software since 1997. A leader in video conferencing and credit card processing systems. Our software and websites have been featured on hundreds of television shows and magazines such as CNN and The New York Times. Our credit card systems have processed millions of transactions from nearly every country around the world. And tens of thousands of people have communicated using one of our video systems. Our successes speak for themselves.
BumbleBee Works has been a 2 year project to produce the most effective e-commerce solution possible. It is a dynamically hosted and database driven system that allows millions of html pages to be delivered from a single web server on which not a single html page exists. Further more, tens of thousands of domains can be served from one server rather than an average 30 per server with most conventional systems.
This technology makes bumblebee the most efficient system online and gives The Cyber Web the opportunity to offer websites that would once cost $10,000.00 or more for only $10/month.
Our resume is impressive. Still we are just a small business that understands what other small business owners are up against. We can provide an insight into web design that larger companies cannot even begin to understand. We also understand the budget limitations of new businesses.
We have earned millions of dollars online, making us one of the most successful home based businesses around. Although we don't have data on all home based businesses to compare ours to, we are pretty sure that any business doing $1million dollars a year from home is a relatively successful one.
As long as we can maintain a one on one relationship with our clients we will probably remain one of the most successful businesses online.
Most of our income is derived from our own websites, but bumblebeeworks gives us an opportunity to share our years of experience with online newcommers while we slowly build still another sucessful online business.
Shown below are the servers for the bumblebee works hosting system. A network of WEB, SSL & DNS servers and tape backup systems nestled in a private data center in Jacksonville FL.

This is where your website will be served from. 24 hour monitoring, daily backups, full UPS and backup generator insure uninterrupted operation of your website.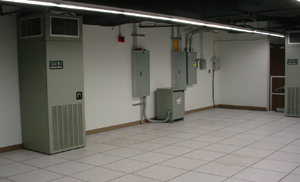 We own and maintain all of our own equipment in this private datacenter. We are not competing for bandwidth with other clients, so our dedicated lines are always ready for usage spikes, unlike the big commercial web hosts.
We do work primarily from our homes, but your website is hosted on nearly $1,000,000.00 of hardware with the latest technology.
Just wanted to clarify that its not running on our home pc's!
UPDATE: Since the launch of bumblebeeworks in 2004 we have grown tremendously, while we are still a small home based operation our network and technology have progressed.
We now employ some of the highet levels of network programming such as our ARTB system for backing up website data and pages. Our bot monitors will stop spam bots from datamining your pages or content for their own website.
We have load balancing technology that can offlaod over burdened sites onto dedicated nodes to prevent one website from slowing down others hosted with it.
We have employed dedicated mail servers to keep spam from impacting website performance.
We have moved our datacenter to a new location and have replaced all of the pictured servers with new even more powerful servers. We are proud to say our customers never saw 1 minute of downtime during the seemless move.
While our technology and hardware are state of the art, we still answer our own phones and work with each customer that needs help.
For details on what we have changed since we started check out the updates page in the paebuzz help section.